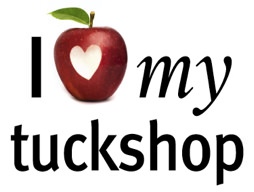 Tuckshop Day
Tuckshop Day is held on the first Friday in November to recognise and give a special thank you to all tuckshop workers and volunteers across Queensland State schools.
It also highlights the important role tuckshops play in school life. Providing nutritious food and drinks means families can have one less task to worry about at the start of their day and helps students to concentrate and learn well in class.
Check out the Tuckshop Day factsheet.
Thanking our volunteers
Encouraging students to say please and thank you every time they use the tuckshop is important but the work that goes on to prepare the food and keep the tuckshop well-stocked is done behind the scenes. Making an extra effort to show the volunteers and tuckshop staff that all their work is appreciated by the whole school community is a wonderful way to build school spirit. Tuckshop Day provides an opportunity to give a special thank you to all tuckshop workers and recognise the valuable role these teams play in every school.
Become a school volunteer
Family members including grandparents as well as local residents are welcome volunteers in schools and especially school tuckshops. The old saying 'many hands make light work' is never truer than in school tuckshops. Volunteers don't have to spend a whole day at the tuckshop. Parents or members of the wider community can make a real contribution by volunteering for as little as an hour. For more information about volunteering opportunities in schools contact Volunteering Queensland External Link.
All tuckshop volunteers, other than parents, are required to have a Working with Children Blue Card External Link to ensure the safety of students. People wishing to volunteer in their local school tuckshops should apply as soon as possible as the Blue Card process takes up to eight weeks.
Smart healthy food and drink choices
The Queensland Government's Smart Choices – Healthy Food and Drink Supply Strategy for Queensland Schools highlights and promotes the supply of nutritious foods in schools and limits the availability of less healthy options.
School communities and tuckshop workers use the ideas in the strategy to promote healthy eating as a way of maintaining good health.
Tuckshop Day is a handy reminder that the food and drinks offered to children at school can play an important role in their development and well-being.
To view the full Smart Choices strategy and related fact sheets and other resources visit the Smart Choices website.
(Information taken from http://education.qld.gov.au/schools/healthy/tuckshop/index.html)